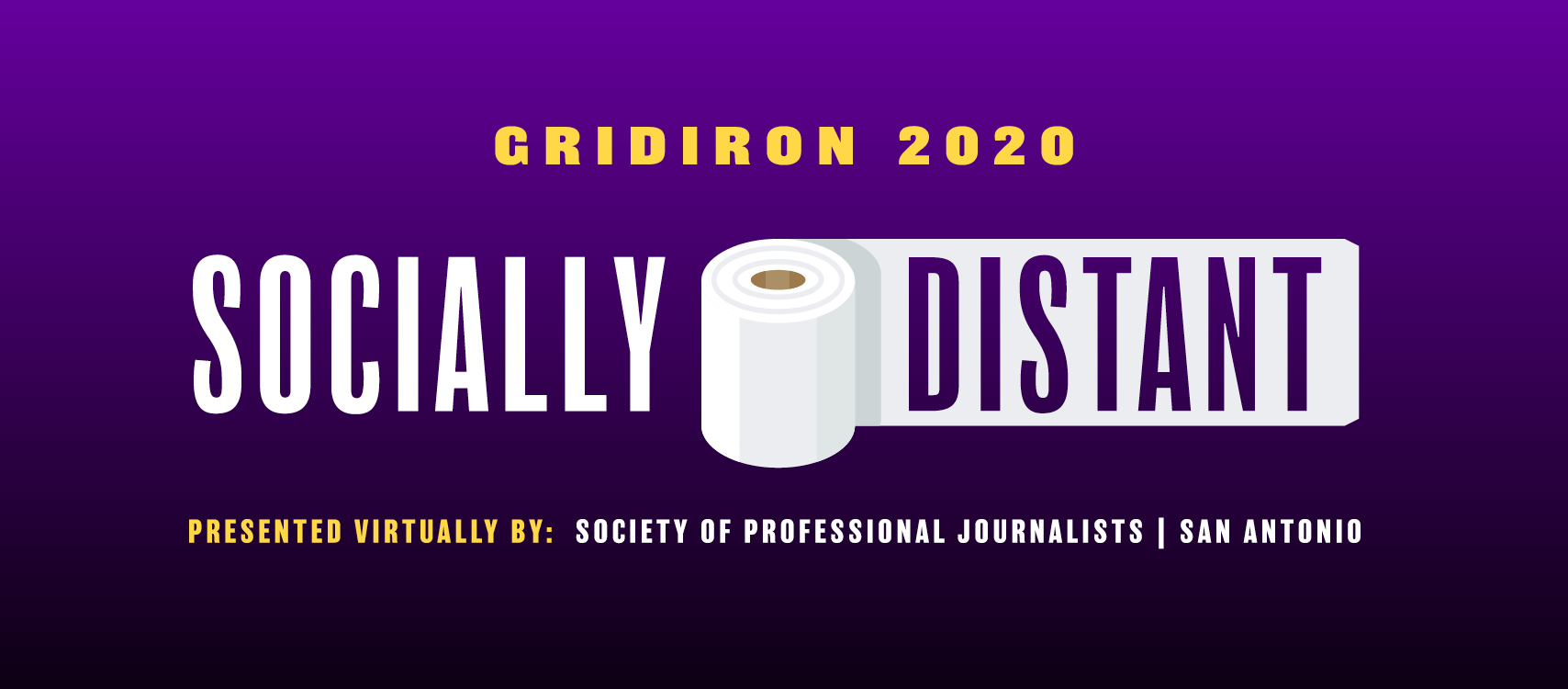 SPJ Gridiron 2020
Tickets for this performance are no longer available; check for future shows.
As you may have heard, there's a pandemic sweeping the globe that has put a hold on many large gatherings, including the infamous, glamorous — and, yes, trashy, but we like to think hilarious — Gridiron 2020.
The delay was just temporary! As they say on Broadway — although it didn't turn out to be true for them — the show must go on. Gridiron 2020: Socially Distant is a solid go. Young journalists-in-waiting are counting on us! They need their scholarships, which is what this fundraiser funds.
Out of deep respect for the Novel Coronavirus, however, Gridiron 2020 is going virtual. All of our would-be thespians have been hard at work — wearing masks and practicing social distancing (most of the time), of course — on musical numbers and skits, skewering local, state and a few national politicos with colorful hair. Our intrepid production leaders are creating such a show out of all that material that it's bound to set new records on YouTube (what kind of records, we can't say, but some kind, surely).
Tickets for this first-of-a-kind extravaganza are cheap and the jokes even cheaper. You need just $20 of that coveted spare change to get an eyeful! The show premieres at 8 p.m., Friday, Oct. 30, just a few days before Election Day (big hint on the content, folks). It will repeat Saturday and Sunday at 8 p.m., with a special matinee at 2 p.m. Sunday.
For that $20, you will have access to the hour-long (more or less) show for four hours. For once, if you're late, it won't matter! You can still watch the whole thing. Well, as long as you don't start later than 11 p.m. for the night shows because access ends at midnight sharp, no matter where in the show you are at the time. For the matinee, access ends at 6 p.m. sharp. Sorry, that's the way the pixels bounce on YouTube.
For $30, you can buy a VIP ticket, which enters you in a drawing for fabulous prizes, including $50 gift cards to Blanca Aldaco's incredible Stone Oak Restaurant, delicious Mexican cuisine in a most inviting setting; luscious charcuterie boxes from Chef Johnny Hernandez's daringly innovative True Flavors Catering; and still other wonderful surprises!
And all for such a good cause! We hope you'll join us.